You do have to look twice at Winston Churchill in The Darkest Hour to believe that is Gary Oldman. Director Joe Wright gives us plenty of time to examine Oldman's performance, drawing the camera so close to his face we can see the glint in his eyes. Though the film doesn't feature anything else of such stellar qualities, it doesn't matter. This is Oldman's movie, and he owns this role in a manner that no other actor could hope to nail with such palpability.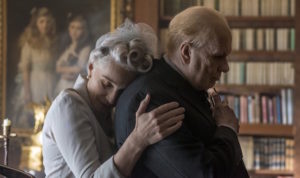 The film begins when Churchill is considered for the role of the Prime Minister and ends with his most moving speech before parliament. His cantankerous and electric nature is present in the very first scene where his new secretary Elizabeth Layton (Lily James) enters his bedroom. He greets her with a lit cigar and an immediate dictation, occasionally broken up by a phone call. The correspondence is not double-spaced, and he explodes in anger, only to calmly coax his cat out from under the bed. He's a strange fellow that his own political party views as an odd chap and King George (Ben Mendelsohn) views as a scary fellow. Upon being inducted as Prime Minister, their conversation is brilliantly awkward with talk of scheduling and naps.
One member of Churchill's political party refers to him in the halls as a man of too many bad ideas and a handful of good ones. It's those good ideas that the United Kingdom desperately needs when facing the threat of Adolf Hitler. The clock is ticking for as World War II has just begun and requires the most critical of decisions. Churchill seems confident in his decisions but, then again, he always seems to have a plan. So many ideas burst from his rhythmic mouth that he requires Elizabeth to follow him into his car and outside the bathroom, continually stating orders and speeches that must be heard.
As the casualties begin to mount higher, Churchill has to make the tough call of continuing to fight Germany or enter into peace negotiations with Hitler. It's a decision that continues to weigh heavily on his shoulders reducing him down to mumblings and late nights of drinks. A lesser man would have caved, but Churchill's spokes only ground harder during this period whereas others would have bent and broken under pressure. Only a man so lively and active could lead a nation into war with vigor for victory.
I don't know if Joe Wright was aware of Christopher Nolan's Dunkirk when making this film, but he makes the smart choice in not focussing much footage on Operation Dynamo. If you'd like to see all the horrific action that went down during that rescue, Nolan's film fills in this gap. In that same sense, Wright's movie gives us a fuller picture by shifting focus to the political tensions going on back in England.
There are many meetings with figures in Churchill's life; this includes the sympathetic strategies of King George, passionate empathy of Churchill's wife Clementine (Kristin Scott Thomas), battles with the disagreeing Neville Chamberlain (Ronald Pickup), and personal banter with Elizabeth Layton. There are a few shots of the war, including the boats that headed to Dunkirk and the German bombers that decimated English troops. We don't get much of these scenes and rightly so. It's more inspiring and intriguing to watch Churchill seek the opinions of the people on the London Underground than watch as another bomb goes off or a soldier shot.
The film is still fantastically entertaining as a whole, barring Oldman's domination of the screen. The cinematography feels grand and exciting, filming the commons room as a towering enclosure of great importance. The scenes of Churchill staring perceptively out of windows from cars and planes are mesmerizing, especially for one shot that transitions from a bombed land to a close-up of a decaying face. There's a fast and invigorating pace to this history lesson, the days ticking for Churchill's first month in office that was paramount to the war effort. When he meets with the public, he's responsive and talkative, welcoming the astonishment of onlookers when he tries to navigate public transit. When in talks with his advisors, he booms with fury about the correct course to take with hardly anyone behind him.
This isn't so much a puff piece on the figure as it is a humanizing one, the camera drawing close for those bitter moments of doubt, as in the momentary freeze he has before addressing the country over the radio. It's one of the year's best film for taking an exciting and inspiring take on history's most significant political players, treating him as more than a textbook hero, as a man of great fear and emotions that are buried and embedded in his work. King George at one point asks over lunch how a man such as Churchill could effortlessly drink so much alcohol in a day without being drunk. "Practice," he states.