There are animated movies that have stories of real character and those that just want to make jokes. Illumination Entertainment, best known for their success of Despicable Me and Minions and now The Secret Life of Pets, seems to only be interested in jokes.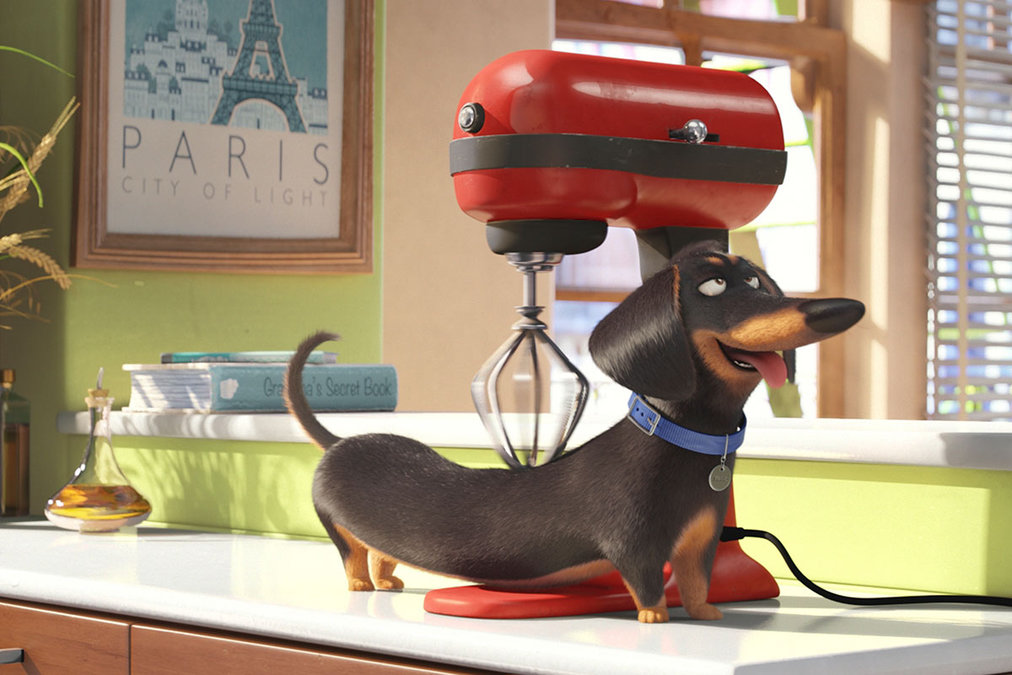 At some point in the studio, the animators started drawing up some gags based on pets. They kept going with comical ideas about what pets might do when we're not looking – from waiting patiently at the door to using appliances as massage instruments. These visual gags continued to mount until the studio decided they should make a movie out of this concept. They clearly didn't have a story, but such trivial aspects do not matter to a studio that specializes in cute and crazy. Just slap on a standard adventure across the city, add some celebrity voice talents and production can proceed with animating dogs, cats, birds and bunnies doing wild comedy.
Max (Louis C.K.), a simplistic little terrier, has his happy life with his young hipster owner threatened by an addition to his Manhattan apartment. His master, Katie (Ellie Kemper), brings home a large and dominant Newfoundland by the name of Duke (Eric Stonestreet). The high-spirited Duke decides not to share, as the living space appears to not be big enough for the two of them.
They fight and squabble until they find themselves lost on the streets of New York City where they'll have to cooperate to make it back home. Their buddy adventure is typical enough that even the movie feels the need to glaze over much of their predictable arc. Don't expect to care about this duo the same way you did with Woody and Buzz Lightyear or Marlon and Dory; the movie won't let you get that involved.
The second and far more interesting plot in The Secret Life of Pets involves Max's best friend and love interest, a Pomeranian by the name of Gidget (Jenny Slate), staging a search and rescue. On her quest, she assembles a host of interesting characters including a lonely hawk (Albert Brooks), a reluctant cat (Lake Bell) and an old basset hound (Dana Carvey) that's been around the block enough times to know how to navigate a construction site.
Gidget's adventure is just as predictable, but has a much different drive and far better gags. Her stumbling into a party of dogs sniffing butts in a circle and filming pet-related accidents for viral videos easily trumps Max and Duke having a non sequitur of a sausage factory raid (complete with a dream sequence of dancing meat that I'm sure will come back to haunt me when viewing Sausage Party).
Stealing the show in The Secret Life of Pets is the antagonist bunny Snowball (Kevin Hart), the leader of an underground gang devoted to exterminating pet owners. That may sound as if they're a dangerous group, but, in the realm of Illumination Entertainment, they're all talk. In this sense, Kevin Hart is perfectly cast as an insane rabbit that runs his mouth about killing humans. Snowball and his band of evil pets only exist for more jokes and a light amount of danger. It's no surprise or spoiler to reveal that everything will work out for this cute little bunny gone bad. We couldn't have anything bad happen to such a cuddly figure.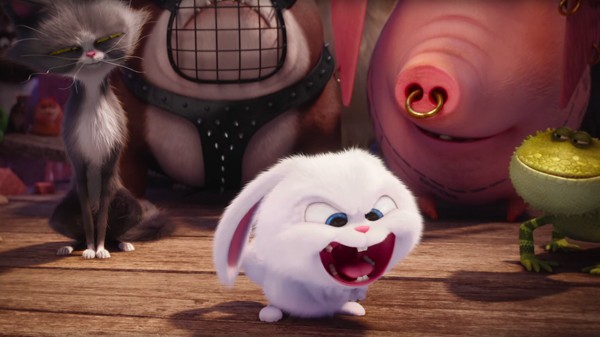 For kids and pet owners, the gags and characters are cute and clever. The first ten minutes of showcasing the behavior of pets when humans head off to work could have made for the perfect short film. It's simple, sweet, amusing and is thankfully utilized as a satisfying bookend to the picture. It's not until the movie starts looking for a standard lost-in-the-city story that the movie starts to lose its way. There should be some chemistry and comradery to the adventures of Max and Duke, but it seems to be sideswiped at every turn for more examinations of pet behavior.
There's a unique moment when Duke finds the house of his old master and is dismayed to discover that he died years ago. There should be some real emotion here, but we're never given enough time to develop these characters to feel much of anything. The movie seems to rely on them just being cute pets as their only development, never spending too much time on any one moment that isn't silly or frenetic.
Read more to check out the trailer for The Secret Life of Pets: