I
t's so bad, it's good. You love to hate it. It's like a bad car accident, you just can't look away. Whichever cliche floats your boat, the message is the same: you're going to be watching 
Sharknado: The 4th Awakens
this Sunday because you just can't help yourself.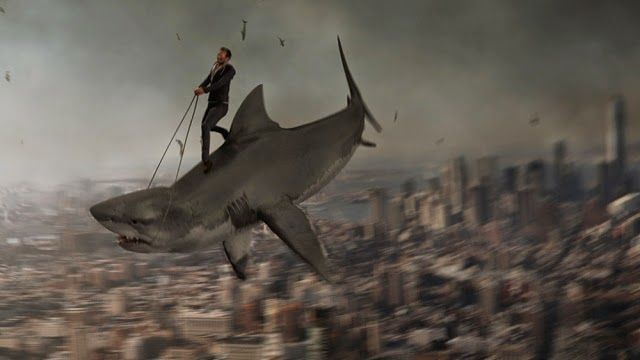 That's right, the 4th installment of the explosive pop culture hit is making its way through the airwaves. A follow-up to 2013's unexpected movie Sharknado, which literally featured sharks getting sucked into a tornado and attacking the city of Los Angeles, the newest film sets its sights on a new target, Las Vegas.
The trailer shows all the usual cheesy action, cheesy acting, cheesy graphics and more. In addition to sharknadoes, other types of -nadoes make their debut. There'a firenado (scary!), an oilnado (hazardous!) and even a cownado (…what?).
The newest part of the series will add Gary Busey and Cheryl Tiegs to the cast.  Ian Ziering will return, along with Tara Reid and David Hasselhoff. Like the pervious films, Sharknado: The 4th Awakens will head straight to television, where it will debut on Syfy.
Read more to hear about the Sharknado phenomenon so far: