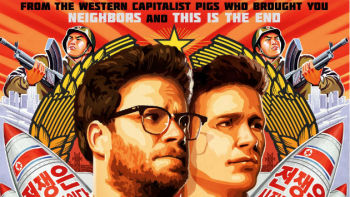 While the upcoming release of The Interview, the action comedy starting Seth Rogen and James Franco looks like a rollicking good time, the recent cyber attack on Sony Pictures Entertainment's computer network is anything but.
The film, which was originally scheduled for an October release was moved Christmas, partially in response from the publicity surrounding the negative reaction from the North Korean state, features a plot line which Rogen and Franco are recruited by the CIA to assassinate leader Kim Jong-un.
The authoritarian state called the release of this movie an "evil act of provocation" and an "undisguised sponsoring of terrorism" and threatened the filmmakers with "stern punishment."
The timing of the attack on Sony is like the a twist in a stoner movie where things go horribly wrong (think Rogin and Franco in Pineapple Express) and Sony is investigating the possibility that North Korea is making good on their threat to punish "the filmmakers."
Whether or not North Korea is behind the attack, Sony stands to lose an untold tens of millions of dollars and loss of intellectual property.
Sony's computers were first infected by Shamoon malware back on November 24th. The attack brought down Sony's entire internal network and led to corruption of PC master boot records, deletion of files, leaks of employee information and several movies, which have now turned up on file sharing sites.
According to Reuters studio co-chiefs Michael Lynton and Amy Pascal confirmed that "a large amount of confidential Sony Pictures Entertainment data has been stolen by the cyber attackers, including personnel information and business documents."
Source:
In a separate BBC News report, North Korea refuses to deny a role in the widespread cyber attack on Sony though it looks like some of the malicious code was assembled in Korea, and the Korean official told the BBC "Wait and see."
The FBI said it is currently joining the investigation.