The
Kingsman
opens today! We've been looking forward to this for a while
 –
we're been over due for a
 new action thriller/comic book adaption. That's right, it's a comic book adaption so get ready for a high octane, cheeky good time.
The movie centers around an unrefined British street kid recruited to complete the Kingsman training program while the fate of the world is threatened by a twisted evil tech genius named Valentine (Samuel L Jackson).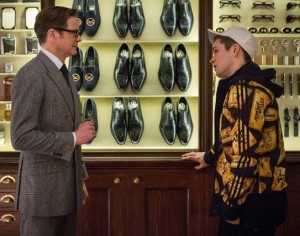 The Kingsman ellevates the spy thriller genre to new heights while making a clear nod to the originators of the genre a la James Bond.
The new recruit, Gary 'Eggsy' Unwin (Taron Egerton), is taken under the wing of senior Kingsman named Galahad (Colin Firth), who shows Eggsy that, despite not being born into the upper class, that he can earn his way to gentleman status by become a Kingsman.
It's almost a cross between my fair lady and a kind of otherworldly spy camp, though Eggs never bothers to lose his cockney accent.
Directed by Matthew Vaughn (X-Men First Class, Snatch), the Kingsman has gotten fantastic reviews on IMBD (8.3/10) and Rotten Tomatoes (70% TOMATEOMETER/89% Audience Score).
See you at the movies!