W
ith
Chris Evans
' charming smile and
ripped body
nice-guy persona, he's won over a lot of fans–including
Stan Lee
.
In a recent appearance on Larry King Now, King put the pressure on Lee by asking him who is favorite Marvel actor is. Isn't that almost like asking who his favorite child is?
Nonetheless, Lee's response came quickly.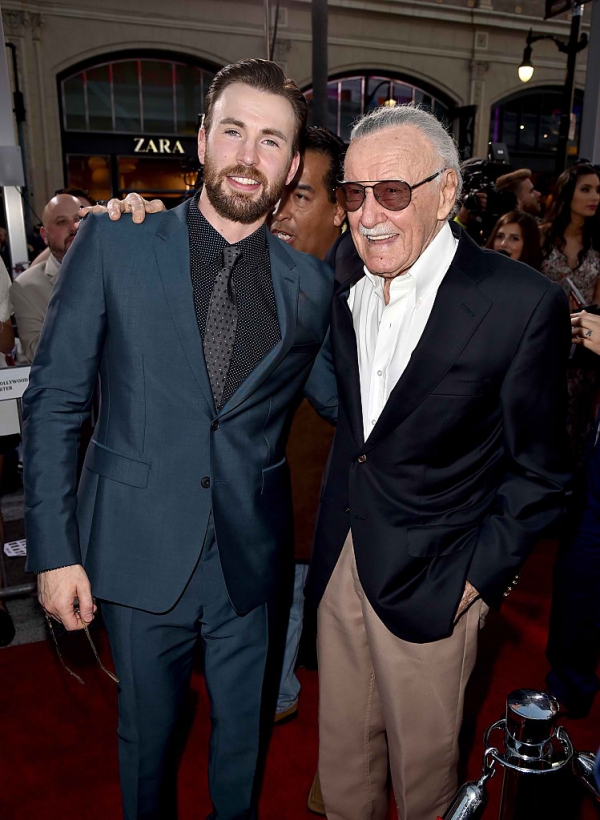 King asked, "Who's the Marvel actor you've bonded with the most?"
Lee responded, "Chris. The fellow who plays Captain America, he was the Human Torch and then they made him Captain America and he's the greatest guy, but I love them all."
Awww. Chris Evans really must be Mr. Nice Guy! Granted, he's probably known Stan Lee the longest out of all the current Marvel Cinematic Universe actors.
As Lee said, Evans had portrayed the Human Torch on two separate occasions. In 2005, the Fantastic Four movie was released, and it was followed in 2007 by Fantastic 4: Rise of the Silver Surfer.
Evans transitioned into his role as Captain America in 2011 with Captain America: The First Avenger. Since then, he's portrayed Captain Steve Rogers in four further Marvel films. Actually, five, if you count his brief cameo in Thor: The Dark World.
Chris Evans imitating Tom Hiddleston acting as Loki imitating Captain America was a sight to behold.
Read more to see why Chris Evans and Stan Lee may have a disagreement in their future: