A stock analyst said Monday that the December-slated blockbuster Star Wars: The Force Awakens could pocket the Disney company a handsome $5 billion in sales in the first year that do not include box office receipts.
Disney, which is releasing the Lucasfilm's seventh Star Wars epic, is expected to cash in on film-related merchandise with sales expected to surpass Cars 2, which generated $3 billion in merchandise sales, according to The Hollywood Reporter, noted.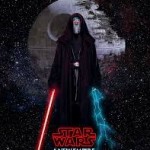 The news blurbs on the huge merchandise bonanza were triggered by an investors report from Macquarie Securities. Stock analyst Tim Nolle noted that Disney stock had plummeted 16 percent in the past four weeks the company was headed into a new revenue landscape with the start of the football season, the opening of Shanghai Disneyland and the merchandise blitz generated by Star Wars.
This weekend, Disney and Lucasfilm are kicking off the merchandise sales with a sales gala called Force Friday. Prior to this, the companies plan to whet the appetites of consumers with an 18-hour live stream of product displays.
Ticket sales should be robust, to use the most modest available term for it. But tickets could be free and the companies would still make a profit on a full round of … stuff, including jackets, tee-shirts, coffee mugs, posters, toys, note books, place mats, sheets, towels, Halloween costumers and anything else that can sport a Star Wars logo.
And don't forget the new wave of light saber purchases.
According to Nolle, "It's not clear how to model his as we can't name a similar such event. But looking at another successful Disney franchise, Cars 2 sold more than $2.8 billion worth of merchandise in its first year alone in 2011, and the original Cars movie sold approximately $10 billion worth of merchandise in its first five years or release."
"Taking into account the strength of the Star Wars franchise, which has altogether sold over $20 billion worth of licensed goods in its lifetime, we can estimate that Star Wars: The Force Awakens could perhaps bring in merchandise sales of $5 billion in the first year."