N
o surprise which movie blasted its way to the top of the revenue lists over the weekend. Despite the publicity push for the Oscar-bound Emma Stone, Ryan Gosling musical
La La Land
, U.S. audiences went in droves to see the latest Star Wars swashbuckler
Rogue One
, the well-reviewed eighth movie in the series begun by George Lucas in 1977.
Called a sci-fi opera, the Star Wars franchise is more accurately a sci-fi soap opera. It began as a cowboys versus Indians epic comedy set in the deep reaches of space – a galaxy far, far away. It has since turned into one of the movie industry's most bankable franchises. Even the bombs fill theaters and Rogue One is no bomb.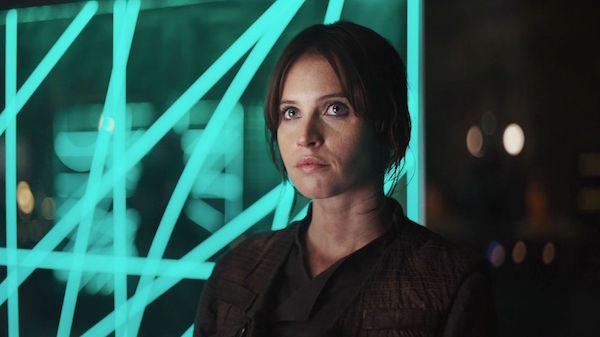 It is a tense, taut sci-fi thriller in which all things Star Wars are honored (the so-called "universe"), but it is vulnerable human beings who are put at risk. The end result earned an 84 percent approval rating on Rotten Tomatoes – down from an initial RT score of 94 percent. Just tie me to a post; who are those nay-sayers, anyway? Personally, I went to see the film twice.
Related: 'Rogue One' Sets December Box Office Record with $155M
Many others did the same and Rogue One earned $155.1 million in domestic theaters and $290.5 million worldwide. This left the Top 10 list for U.S. offerings with Moana (95 percent on Rotten Tomatoes) earning $12.8 million, followed by Office Christmas Party (RT score of 43 percent) earning $8.6 million, Collateral Beauty (14 percent) earning $7.2 million, Fantastic Beasts and Where to Find Them (74 percent) earning $5.1 million, Manchester by the Sea (97 percent) earning $4.3 million, La La Land (94 percent) earning $4.2 million, Arrival (94 percent) earning $3 million, Doctor Strange (90 percent) earning $2.3 million and Nocturnal Animals (71 percent) earning $1.5 million.
Worldwide screenings look a little different. At No. 2 worldwide is The Great Wall, starring Matt Damon that is months away from its U.S. release. No. 3 worldwide was Moana, earning $27.1 million around the globe, followed by a few familiar faces. Hacksaw Ridge, the Mel Gibson war story, is perched at No. 7 worldwide (earning $9.1 million), The Wasted Times landed at No. 8 with $9.1 million in earnings, while Pandora sits at No. 10, earning $7.6 million. The Wasted Times is a Chinese release, a thriller, while Pandora, concerning a nuclear power plant explosion, is Korean-made.
Read more to see what the critics thought of this week's box office: