Star Wars has given us the light saber, comical robots, a galaxy far, far away, memorable theme music and so much more: Yoda, the Force, Darth Vader, Tatooine (the planet with two suns), Jabba the Hutt, Jar-Jar Binks and the unforgettable swashbuckling team of Luke Skywalker, Princess Leia and Hans Solo.
But now it may have given us something we may learn to regret: Trailers that hype the upcoming trailers for the film.
Trailers, as we all know, run about a minute to two or three minutes long and studios typically release from two to six to hype their films in theaters and on the Internet.
They might release the first trailer a year or more before a film opens in theaters and update these to keep the interest in the film as high pitched as they can make it.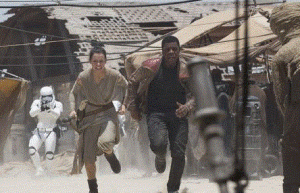 But this week, as USA Today's Entertain This duly noted, Star Wars Instagram "calculatedly" released a few teasing short-shorts to hype the fact that during Monday Night Football they would be airing the next trailer for the upcoming epic Star Wars: The Force Awakens.
USA Today, inadvertently or not, referred to the very short releases as "teasers." That term, of course, has been used as a nickname slash synonym for trailers. But it maybe time for the terminology to make room for 16 second mini-trailers or trailer-teasers or whatever these bite-sized trailer snacks might be called.
It does this push the hype envelope just a bit too far when reporters have to rush to press with stories about 16 seconds of film. This is long enough to show planes zipping overhead and a cast member looking up. Hey, nice sound effects on those jets! Hey, that character has an interesting hair cut. That's about the most you can get out of these things and they don't add much to what is already known about the film. Hey, Star Wars: The Force Awakens will have jets in it – zippidy-doo-day-day to that!
OK, this reporter is a day late and a dollar short; the new trailer was released yesterday and I'm just now looking at these 16-second bits of hype that are the movie industry's equivalent of donut holes.
Do teasers work? Hmm? The Youtube trailer, released Monday, had 13 million hits within 24 hours. That means we might see more of these tidbit trailers in the future.
Here's one of the "teasers" released during the day Monday, prior to release of the trailer posted above.