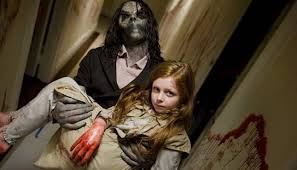 Well, it was a weekend of weak releases at domestic movie theaters with the stitched up horror film Sinister 2 topping the list of new arrivals at $10.6 million, according to attendance monitor Web site Rentrak.
Sinister 2's modest returns were topped by two established releases. For the second straight weekend, Straight Outta Compton, the N.W.A. biopic (that would be Niggaz Wit Attitude biopic) topped the domestic box office take with a $26.8 million weekend. Second for the Friday through Sunday take at the gate was Mission Impossible: Rogue Nation, which took in $11.7 million in its fourth weekend in theaters.
Sinister 2, which was given a painful 13 percent rating by viewers at Rotten Tomatoes, came in third, the best of the new weekend releases, followed by Hitman: Agent 47 (which was also given a splat of a rating, 8 percent, at Rotten Tomatoes), Man From U.N.C.L.E. with a take of $7.4 million and sweet, snappy (and hysterical) American Ultra, starring Jesse Eisenberg and Kristen Stewart, which grossed $5.5 million in the domestic market.
What did we learn from the weekend? We learned that distributor Universal Pictures picked a fine weekend for releasing Straight Outta Compton, which had little competition a week ago and seemingly even less this week. The same goes for Paramount's July 31 release of the Tom Cruise cruiser Mission Impossible: Rogue Nation. After all, nothing helps the box office take so much as slipping in between the cracks.
We'll just have to see how these releases hold up next weekend. On the docket in U.S. theaters for release this week include War Room (with Alex Kendrick, T.C. Stallings and Ashley Bratcher); We Are Your Friends (with Wes Bentley and Zac Efron); and Z for Zachariah (with Chris Pine and Chiwetel Ejiofor and Margot Robbie).
Here's a taste of Z for Zachariah: