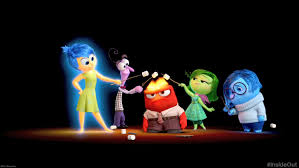 Oh, Joy at the movies this weekend – and Sadness, Disgust, Anger and Fear – as Pixar's latest animation Inside Out was released to mixed reviews, but an apparent stampede at the box office, where the film raked in $30.1 million in the domestic market and $48.7 million worldwide.
It takes nerves of steel to stare down Jurassic World and come away unscathed and Rentrak says that the latest dinosaur feeding frenzy (with some running and screaming mixed in) is now up to $72.9 million worldwide and with a take of $30.0 million over the holiday weekend, bringing its grand total since release to $1.385 billion – and more than a billion for a movie is good, right?
Those tittering, yellow Minions also broke out of the box over the weekend, earning $54.3 million on the international stage, although it has yet to be released in the United States. So, what if the Minions look like the offspring of Minnie Mouse and an antihistamine. They are a draw and not likely to go away soon.
Of course, we can't leave out the weekend's sci-fi spectacular, Terminator Genisys which led the box office weekend take with $102.7 million worldwide and $28.7 million in the United States. The point that Arnold Schwarzenegger was out-muscled on his home turf by an 11-year-old girl, Riley, and the emotions that make up her consciousness in an animated feature seems a noteworthy development.
Further down the line is Ted 2 with $11 million even on the domestic market and $19.9 million overseas. This was trumped domestically by Magic Mike XXL, which took in $12 in the states with Screen Rant noting that 96 percent of the audiences for the formulaic romp about male strippers were female. I wonder who didn't see that coming.
Critics, meanwhile, have been busy dissecting Riley's brain, trying to figure out if there is any valid science behind the idea that an 11-year-old girl has actual emoticons running around in her head or not that dictate her actions. My vote is no. It also seems decidedly old school to suggest that young girls are ruled by emotions rather than their intellect — even if the emotions are likely to be much funnier.