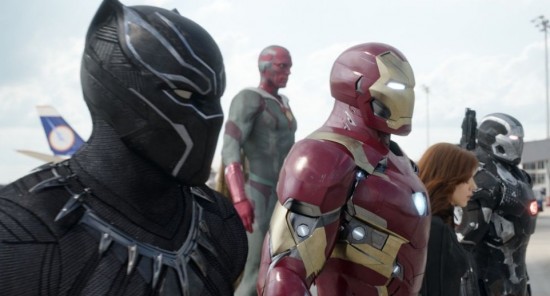 S
ummer blockbuster season kicked off quite early this year with the launch of
Batman v Superman
in late March. That just mean's there's more time for films to compete for our number one spot on the blockbuster list. Here are our picks for the top competitors:
The Jungle Book
April 15, 2016
The Jungle Book is bringing together some pretty powerful actors to provide the voices of famed characters like Baloo and Bagheera. Bill Murray, Lupita Nyong-o, Scarlett Johansson, and Christopher Walken are all lending their vocal chords to the flick.
The Huntsman: Winter's War
April 22, 2016
Though ranked a dismal 23% "rotten" on RottenTomatoes, the film received a whopping 97% "want to see" score, meaning audiences are still excited. Additionally, the films predecessor, Snow White and the Huntsman, grossed about $155 million domestically.
Captain America: Civil War
May 6, 2016
After the fan praise of Captain America: The Winter Soldier, there are high hopes that the Marvel installment will at the very least live up to its predecessor. Pitting Steve Rogers (Chris Evans) against Tony Stark (Robert Downey, Jr.) certainly won't hurt the movie's chances, either.
Alice: Through the Looking Glass
May 27, 2016
Johnny Depp returns as the loony Mad Hatter in this sequel to Alice in Wonderland. The first in the series pulled in $691 million worldwide.
X-Men: Apocalypse
May 27, 2016
X-Men: Apocalypse is the follow-up to X-Men: First Class and X-Men: Days of Future Past. Jennifer Lawrence will return as Mystique and Michael Fassbender will reprise Magneto, but newcomers Sophie Turner (Game of Thrones) and Oscar Isaac (Star Wars: The Force Awakens) will also be joining the cast.
Finding Dory
June 17, 2016
Yep, it's animated. And yep, we all loved Finding Nemo. Fans will probably "just keep swimming" into the theater for this one.
The Legend of Tarzan
July 1, 2016
Margot Robbie and Alexander Skarsgard star in this adventure flick, and by the looks of the trailer, the eye candy alone will be enough to draw in viewers.
Ghostbusters
July 15, 2016
The all-female version of Ghostbusters has received a lot of excitement from both fans of the original and new fans alike. Dan Aykroyd, one of the original Ghostbusters, received a writing credit on the project.
Star Trek Beyond
July 22, 2016
Live long and prosper, indeed. The Star Trek franchise continues to grow by releasing a new film nearly 40 years after the release of Star Trek: The Motion Picture.
–MovieSpoon Staff