T
he C-suite executive in diapers – the baby brother with the officious chip on his shoulder –
The Boss Baby
– held onto its top slot at the box office over the weekend. For the second straight week the t00-big-for-its-diapers character voiced by Alec Baldwin, edged out blockbuster
Beauty and the Beast
, earning $26.3 million to
Beauty
's $25 million take. That left the blue dudes — the Smurfs — at no. 3 on the revenue charts.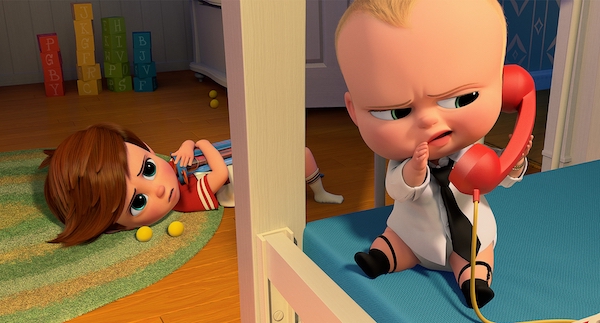 The Boss Baby was available in fewer theaters than Beauty, but that may change. Finding a new hit in circulation, 56 more theaters showed The Boss Baby than the previous week, while 241 theaters dropped Beauty and the Beast. Beauty, however, still held the edge, available in 3,969 venues, while The Boss Baby was showing in 3,829 domestic theaters.
There was plenty of room left for Smurfs: The Lost Village to make a decent run, but there's a limited audience for miniature navy blue people who live in flowery dells and disobey their grandfathers.
Remember when you had pets in your house named Speedy and Limpy? Or Chewy and Biggie? This tells you the age of the expected audience in a film in which characters are named Clumsy, Brainy and Hefty. That would be age of about 3 to 5. (If you get a puppy and someone in your house names it "Barky," you'll see what I mean).
Related: Movie Review: 'Smurfs: The Lost Village' Is a Semi-Lost Cause
Turns out, that pre-allowance age group found $14 million in discretionary spending over the weekend, spending that much on tickets to see the Smurfs. That take topped Going in Style, which earned $12.5 million and Ghost in the Shell, which earned $7.3 million.
Read more: