W
ith a smack-down, hard-edged mentality out of the executive suite–and not too much else sweet about it–animated comedy
The Boss Baby
roared over the weekend, collecting a cool $49 million for 20th Century Fox. The
Alec Baldwin
vehicle earned just enough to send box office pace setter
Beauty and the Beast
down to No. 2 on the revenue chart with a weekend take of $47.5 million.
Who could argue with an infant who knows the ins and outs of corporate American like the back of its hand and uses his adult-level intelligence to manipulate his older brother and wage a stealth war against puppies, which rival infants and compete with puppies for attention from adults?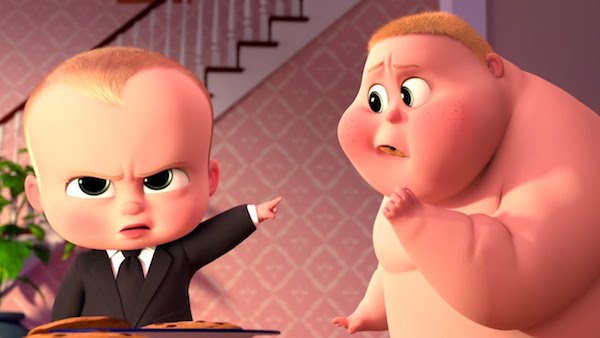 Beauty and the Beast, starring Emma Watson, meanwhile, has slid fast from the opening weekend pace that put the musical at No. 7 on the all-time list of revenue earners in their first weekend of release. Beauty and the Beast opened with a $170 million weekend and may even find itself ahead of The Boss Baby in the weeks ahead if it proves to have more staying power than Alec Baldwin in diapers.
Scarlett Johansson's latest film Ghost in the Shell, released by Paramount and skewered by critics, was in a distant third place with a take of $19 million. Lionsgate's Power Rangers earned $14.5 million to land at No. 4 on the list, followed by Kong: Skull Island (Warner Bros., $8.8 million), Logan (20th Century Fox, $6.2 million), Get Out (Universal, $5.8 million), Life (Sony, $5.6 million), CHIPS (Warner Bros., $4 million) and The Zookeeper's Wife (Focus Features, $3.3 million).
Related: Movie Review: 'Ghost in the Shell' Favors Gorgeous Style over Hard Sci-Fi
The disappointment of the week has to be The Zookeeper's Wife, which is a poignant story of a zookeeper and his family who used their facility, the Warsaw Zoo, to shelter Jews escaping the holocaust in Poland. The family ended up hiding more than 300 Polish Jews from almost certain death in prison camps.
But the film has been reviewed as "devoid of tension," and "too mild," according to The Atlantic, with too much attention paid to the zookeeper's wife, who was mostly unaware of what was going on, but was also a kind of animal-whisperer who had a magic touch with animals. This plays up her angelic qualities, but doesn't do much to help the plot and it takes attention away from the Jews who are, after all, at the center of the story.
Too bad.
Review scorekeeper Rotten Tomatoes (RT), meanwhile, shows that reviewers didn't care much for The Boss Baby, either. From top to bottom on the RT list for the week – touching on scores for the top 10 money makers – starts with Get Out with an approval rating of 99 percent (almost unheard of), followed by Logan (92 percent), Kong: Skull Island (77 percent), Beauty and the Beast (71 percent), Life (66 percent), The Zookeeper's Wife (59 percent), The Boss Baby (49 percent), Power Rangers (48 percent), Ghost in the Shell (45 percent) and CHIPS (19 percent).