S
ometimes a movie is so bad, we can't help but giggle deviously. Why? Because chances are we are sitting on a big fat "I told you so." That's definitely the case with 
The Emoji Movie
. Seriously, who thought it was a good idea?
If you live in a city where movies are all the rage, chances are you've seen those awful billboards for The Emoji Movie. If you haven't seen them, here's what you missed out on: giant posters that say things like "Meet Poop" and have the poop emoji plastered all over them. Every time we see them, we cringe and try to avert our eyes.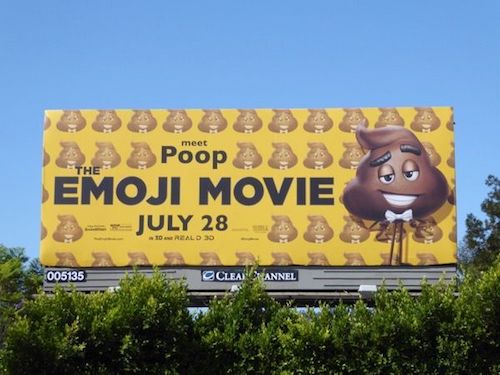 There's definitely a sense of satisfaction creeping in now that we see just how badly The Emoji Movie is performing with critics. RottenTomatoes, which aggregates critic reviews, gave the flick a hilarious 6% "rotten" rating. That means only 6% of critics would recommend the movie to others.
Here are some choice quotes from the critics:
"The film is boldly bad, yes, but also boldly boring."
"Disregard that PG rating and keep your chilren far away from director Tony Leondis' vile animated faux-comedy."
"It would be hard to forgive The Emoji Movie its 'meh' plotline and the fact that it is literally one giant ad for apps, but its most unforgivable sin is that it perpetuates the notion that emojis are childish."
Heh.
Related: Movie Review: 'Spider-Man: Homecoming' Is a Youthful Jolt of Superhero Joy
Read more: