During a season of movies that are so painfully awful, Gods of Egypt comes as a refreshing movie…in that it was SO bad that it was good.
With its abundance of cheap computer graphics, silly dialogue and a notable cast, there's a self-aware nature that make this farce deliciously goofy. It's almost goofy enough to recommend, if only it weren't so long and drawn out.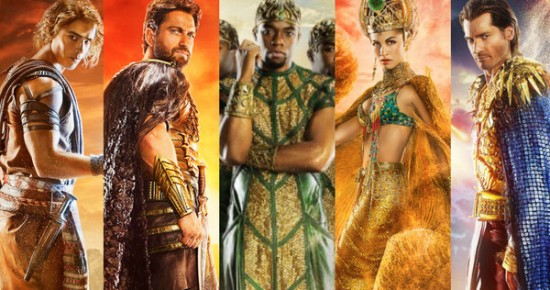 Surprisingly, the plot sticks fairly close to the mythology of Egyptian gods. As the gods dwell among humans, there's the drama of grand figures fighting for loyalty and power. King Osiris (Bryan Brown) hands down his throne to his son Horus (Nikolaj Coster-Waldau) which angers Set (Gerard Butler). Set kills Osiris, rips out Horus' eyes and assumes the throne to build gargantuan monuments. Set's new reign of slavery and tougher deals for the salvation leads to the plucky slave Bek (Brenton Thwaites) seeking out Horus' eyes so that he can defeat Set. But with his wife doomed to the afterlife in his quest, Bek has more on his plate as he attempts to assert himself around gods that look down on him in more ways than one.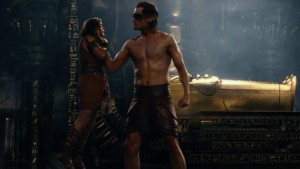 As you might expect from such a cast, the gods and many of the Egyptians appear as muscular white guys struggling to hold back their various European accents. There are certain parallels to the white-washing of Hollywood roles in 2014's Exodus: Gods and Kings. But unlike Exodus, Gods of Egypt doesn't seem to take its own sword-and-sandal vision seriously.
In addressing the racial issue of casting, director Alex Proyas said that it was a subject of issue, but not for a movie such as this. I sort of agree with him in that it doesn't seem to be worth getting worked up over a movie where Coster-Waldau turns into a metallic bird and a hulking CGI sphinx utters, "Oh bother."
There's an admirable sense of epic filmmaking with B-movie sensibilities. For trying to remain close to the source material, the script is never shy to inject as much humor as it can into the dialogue. Set makes jokes about his monuments not being big enough, Horus marches around as a gentle giant of limited social skills with mortals and Bek keeps on cracking about how much it sucks to live with gods. I can almost sense the franchise-building tone that Lionsgate was shooting towards.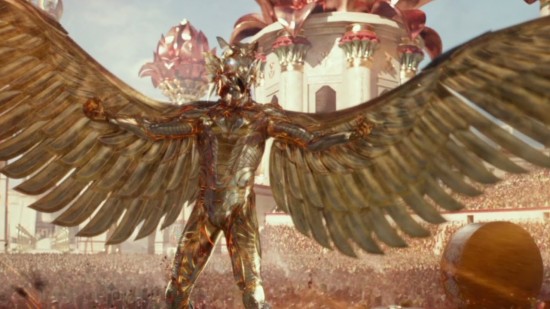 The computer graphics are rather cheap considering the aim of Proyas' grand vision. Cities are crowded with civilians, giant snakes slither across vast dunes and Ra has nightly cosmic battles. There are some decent effects with trick photography and digital effects to make the gods appear larger than mortals. It's certainly a ridiculous sight in a few scenes, but rarely does it look like a cheap effect.
For a $140 million budget, there should at least be a handful of scenes that look at least a little impressive. The battles are not too shabby for all the visual flair shoved into the frame, but, wow, do they outstay their welcome with the abundance of CGI. By the time I reached the grand finale of magic and swords, I was already exhausted with its spectacle.
Through all its ridiculous writing and clumsy smatterings of CGI, Gods of Egypt is the type of bad movie that's more entertaining than it should be. The tenacity and earnest of its filmmaking contains a certain charm you just don't see too often in this day and age. If it only had a bit more creativity in its visuals and had trimmed some of the fat from its two-hour running time, this could possibly have been the next franchise for Lionsgate to bank on. In its current form, however, it's one heck of a bad movie destined for a night of beers and laughing.