I
t seems like
Marvel
always has some secret plots brewing, but thanks to social media, we get glimpses at the action.
Thor: Ragnarok
is currently shooting in Australia, and online tidbits are showing off some interesting reveals.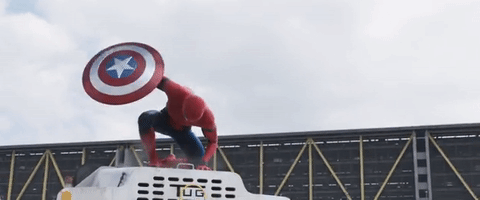 Spider-Man, whose portrayal by Tom Holland was debuted in Captain America: Civil War, may not be done with his cameos. Spider-Man: Homecoming is also currently being filmed and director Jon Watts found time to tweet some news.
In a message directed at Taika Waititi, director of Thor: Ragnarok, Watts wrote, "Is Spidey gonna be in Thor: Ragnarok? Pls give a heads up bc it's a long flight and we still have a lot to shoot."
He followed up with a humorous image of a Thor action figure with Spider-Man's face:
What if we just do half swapsies? Ragnacoming and Homerok? pic.twitter.com/rMviZNnAxA

— Jon Watts (@jnwtts) May 12, 2016
Waititi hasn't responded, and considering trailers have yet to be seen for either film, we're a little bit in the dark still. Spider-Man: Homecoming is due out on July 7, 2017. Thor: Ragnarok will follow on November 3, 2017.
Related: Tom Holland Posted the Most AWESOME Spider-Man Selfie
Read more to check out Tessa Thompson's behind-the-scenes photo from Thor: Ragnarok: