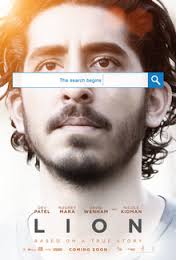 Release date: November 25, 2016 (limited)
Studio: The Weinstein Company
Director: Garth Davis
MPAA Rating: PG-13 (for thematic material and some sensuality)
Starring: Dev Patel, Rooney Mara, David Wenham, Nicole Kidman
Adapted from the non-fiction book "A Long Way Home" by Saroo Brierley. Five-year-old Saroo gets lost on a train which takes him thousands of kilometers across India, away from home and family. Saroo must learn to survive alone in Kolkata, before ultimately being adopted by an Australian couple. Twenty five years later, armed with only a handful of memories, his unwavering determination, and a revolutionary technology known as Google Earth, he sets out to find his lost family and finally return to his first home.