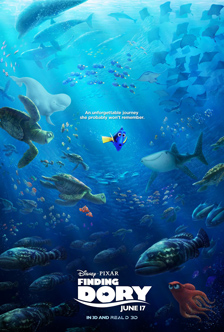 Release date: June 17, 2016 (3D/2D theaters and IMAX)
Studio: Disney•Pixar
Directors: Andrew Stanton, Angus MacLane
MPAA Rating: PG (for mild thematic elements
Starring: Ellen DeGeneres, Ed O'Neill, Ty Burrell, Kaitlin Olson, Albert Brooks, Diane Keaton, Eugene Levy, Hayden Rolence, Michael Sheen
"Finding Dory" reunites Dory with friends Nemo and Marlin on a search for answers about her past. What can she remember? Who are her parents? And where did she learn to speak Whale?
"Finding Dory" is a sequel to the 2003 film "Finding Nemo," which won an Oscar for best animated feature. The movie earned over $380 million worldwide and opened to widespread critical acclaim. It has an astonishing 99% "certified fresh" rating on Rotten Tomatoes.