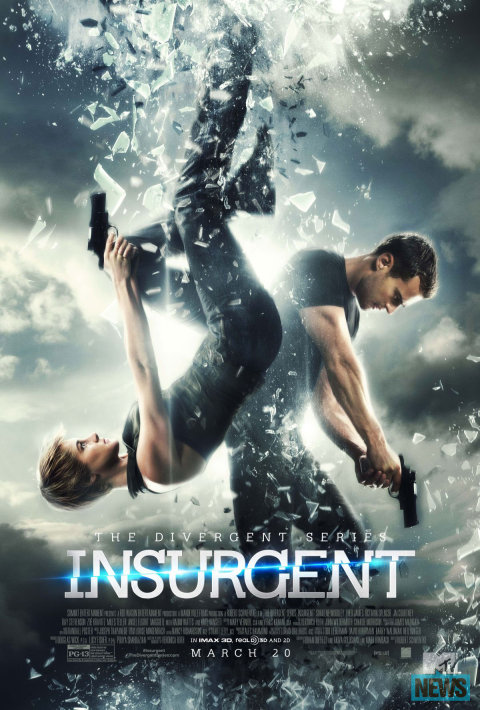 The second installment in the the Divergent trilogy is back!
Insurgent will be directed by Robert Schwentke and is based on the second book in the series written by Veronica Roth.
Octavia Spencer and Naomi Watts join Shailene Woodley and cast this time around as Tris (Woodley) searches for allies and answers in the ruins of a futuristic Chicago.
Tris and Four (Theo James) are now fugitives on the run, hunted by Jeanine (Kate Winslet), the leader of the power-hungry Erudite elite. Racing against time, they must find out what Tris's family sacrificed their lives to protect, and why the Erudite leaders will do anything to stop them.
Haunted by her past choices but desperate to protect the ones she loves, Tris, with Four at her side, faces one impossible challenge after another as they unlock the truth about the past and ultimately the future of their world. 
Insurgent is not without controversy to long-tine fans of the books. The Divergent author says she's seen Insurgent and is relieved to find that the book-to-film changes only benefit the movie.
"I know that some of you are probably apprehensive because as the trailers have revealed, there are a few clear differences between the book and the movie," she wrote. "I shared that apprehension walking into the screening room, but I walked out of the movie relieved — and excited." – Veronica Roth
Roth explained that some things in her book would not have translated well to the big screen, so the changes were necessary. "Insurgent, the book, has a complicated plot—a lot of moving parts, a lot of ups and downs. That sort of thing can work in a book, but if it's translated directly to the screen, it makes for a messy, confusing movie. The changes that were made streamline the story so it makes sense for this new format; in other words, they work."
Insurgent set for released on March 20, 2015 in the US and you"ll be able to see this on IMAX 3D, regular 3D and 2D.
Watch Insurgent Trailer