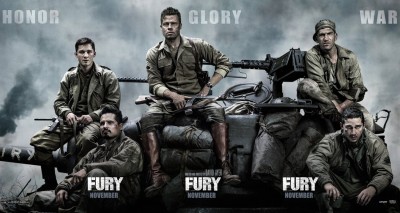 Fury brings Brad Pitt back to WWII as a tank commander pushing through Germany during the last days of the war in April 1945. Pitt's last turn in a WWII drama was in Inglorious Bastards (2009) as Lt. Aldo Raine.
Pitt's Fury character doesn't have the quite the same panache Lt. Raine and instead shows a darker side as a battle-hardened combat veteran named Sergeant Don Collier aka "War Daddy."
Wardaddy commands a Sherman tank and his five-man crew on an impossible mission behind enemy lines. The old adage "Out-numbered and out-gunned" is an understatement as the platoon, with a rookie gunner in tow, make their way through a heavily fortified Nazi Germany.
The allies know the war will be won but Germans fight for every last parcel of land and the S.S. kill civilians refuse to fight for the lost cause.
A large part of the story centers on War Daddy trying to coax and harden a battle shy greenhorn named Normon, played by Logan Lerman. When Norman finally becomes accustomed to the brutality of war he's still not able comprehend its futility.
Fury is directed by David Ayer, and stars Brad Pitt, Shia LaBeouf and Logan Lerman.
Fury Trailer