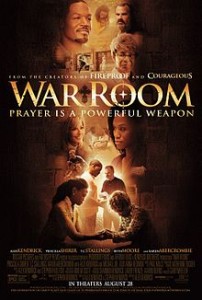 It took Straight Outta Compton twice the theaters to fall $511,160 short of matching the top-ranking domestic film over the Labor Day weekend. The N.W.A. biopic, which received terrific reviews, was nudged out of first place in its fourth weekend out by the Christian drama War Room, the Kendrick Brothers Production that was shown in 1,526 theaters over the weekend, while Straight Outta Compton was still available at 3,097 theaters.
War Room netted $9,350,000 over the weekend in U.S. Theaters, while Straight Outta Compton took in $8,250,000. In the third slot was A Walk In The Woods, a Broad Green Pictures released based on the book by humorous travel writer Bill Bryson concerning his attempt to walk the Appalachian Trail as a way of re-acquainting himself with the United States after years of living abroad.
Mission Impossible: Rogue Nation managed to hang onto the fourth slot with a take of $9,425,519 with a slight edge over the edgy Transporter Refueled, the EuropaCorp release that took in almost exactly $9 million.
The top 10 included No Escape ($7 million), Man from U.N.C.L.E. ($4.5 million), Inside Out ($4.4 million), Gallo con Muchos Huevos ($4.3 million) and Sinister 2 ($4.1 million).
Were there any surprises? Certainly, the advent of a Christian-based drama taking over the top slot in its second week out will have young studio execs scratching their heads wondering if they have anything Bible-related in their briefcases. This could bring about a few Bruce Almighty type comedies or it could signal a new rash of epic Bible films, such as a dramatization of any number of memorable characters from Noah to Abraham. Anyone care to do Cain and Able as a Western?
Of course, it may just mean that studio executives will demand some timely name dropping. The Fast and Furious features were certainly not faith-based films by design, but the principal character Dominic Torretto (played by Vin Diesel) was decidedly attached to a large cross that he hung around his neck and once gave to his love-interest Letty Ortiz (played by Michelle Rodriguez).
In turn, Elizabeth Shaw (played by Noomi Rapace), the sole survivor of the Prometheus journey in the Ridley Scott sci-fi thriller of the same name also covets a cross that is taken from her on the fears that it could have become contaminated. She gets it back, of course. All crosses in movies return to their rightful owners. Kind of an unwritten rule in Hollywood.