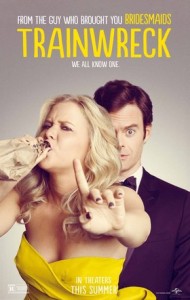 Trainwreck is Amy Schumer putting it all on the line, which means her rolling, raucous, real-time and raunchy sexuality with all the self-effacement, multiple partners, open shirts and hangovers there for all the world to see.
In Trainwreck, Schumer, who I imagine is Mae West reincarnated, is forced to confront a time-honored Hollywood obstacle, the unexpected nice guy who truly likes here. Of course, this requires a pretty (but not too) girlfriend and confident, in this case Saturday Night Live's Vanessa Bayer as Nikki and a somewhat sober, not too stiff, stiff of a boyfriend, in this case Bill Hader as Dr. Aaron Connors (although sometimes these guys are named Mike Reynolds or Jack Brown).
The film features tons of celebrity walk-ons, after all, this is Amy Schumer and she's decidedly "approachable" as the movie says. You know, she's cute, fun, bright and sexy (but not too). Anyway, the cast includes Daniel Radcliffe, Marisa Tomei, LeBron Makes, Brie Larson and Colin Quinn, among others.
Set for release July 17: