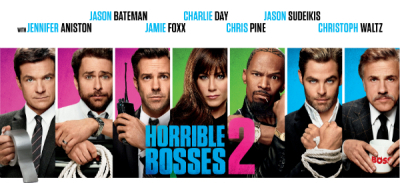 Jason Bateman and the gang are back for Horrible Bosses 2, the sequel from the 2010 hit. For this turn the cast is joined by two-time Academy Award winner Christoph Waltz  (Inglorious Bastards, Django) and heart throb Chris Pine (Star Trek).
Kevin Spacey has a small role, from behind bars, having been busted at the end of the last film when Bateman & Co. turned the tables one the ultimate 'horrible bosses.' Colin Farrell, who met an untimely fate at the hand's of Spacey, was unrecoginizeable in his hilarious performance, will not be back.
This time around Jason Bateman (Nick), Jason Sudeikis (Kurt), Charlie Day (Dale) decide to start a business but get swindled by Waltz and Pine. Jennifer Aniston and Jamie Foxx reprise their roles as chaos ensues.
Horrible Bosses 2