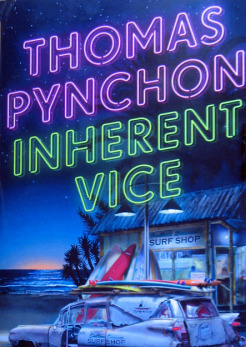 Inherent Vice will be released on December 12 in Los Angeles. 
Inherent Vice, the first novel adapted by Thomas Pynchon, written and directed by Paul Thomas Anderson.
Anderson has directed some of our favorite movies – Boogie Nights, Magnolia and There Will Be Blood so we're very excited for his latest release.
Inherent Vice takes takes place during the drug fueled haze of Los Angeles in 1970. Larry "Doc" Sportello (Phoenix) navigates his way through a psychotropic labyrinth to investigate the disappearances of his ex-girlfriend.
The film debuted at the New York Film Festival back late September and reviews have been stellar, considering this is a difficult book to read, let alone understand, and has an ensemble cast that includes Josh Brolin, Owen Wilson, Reese Witherspoon, Maya Rudolph, Benicio Del Toro and Martin Short.
Some are calling Anderson's return to an ensemble cast his best since Magnolia or Boogie Nights and it's easy to see why. This may not win clean up at The Oscars, but we're betting that Phoenix, based on early reports, has a shot at Best Actor.
If it's a quiet night out at the beach and your ex-old lady suddenly out of nowhere shows up with a story about her current billionaire- developer boyfriend, and his wife, and her boyfriend, and a plot to kidnap the billionaire and throw him in a loony bin…
Inherent Vice