A
nybody who has seen interviews with the cast members of 
Captain America: Civil War
knows that these actors had a heck of a lot of fun on set. Perhaps so much fun that it was borderline disruptive to filming, but hey, that's the price you pay when you want the likes of
Robert Downey, Jr., Scarlett Johansson, Paul Bettany, Chris Evans
and more all in one film.
Thankfully for us, some of the hilarity was captured on camera. Marvel has just released a gag reel for Captain America: Civil War, and it's pretty darn funny.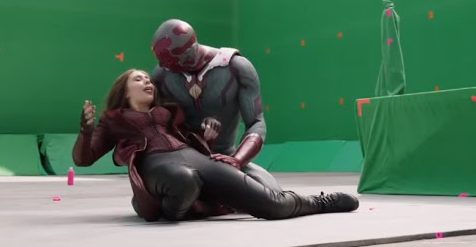 It starts out on the right foot with several of the actors cracking up, followed by shots of Chris Evans and Robert Downey, Jr., having what looks like a dance-off and Evans and Sebastian Stan diving under water.
There are shots of Black Widow having a weapon malfunction, Jeremy Renner forgetting his lines, Downey, Jr., scolding Spider-Man actor Tom Holland and plenty of goofy faces.
Take a look at the gag reel and just try not to laugh:
More behind-the-scenes featurettes will be revealed when Captain America: Civil War is released on DVD and Blu-Ray on September 13, 2016.
Read more to watch the gag reel from The Avengers: