W
e must be getting closer to seeing a trailer for 
Thor: Ragnarok
. Lately there's been new concept art out as well as some new clips. Lucky for us, one of the newest clips features our favorite roommate, Darryl.
Last year at Comic-Con, there was a silly video showing off what Thor was up to while Iron Man and Captain America duked it out in Civil War. It showed Chris Hemsworth as the god of thunder taking a much needed vacation. He had set up a new life in Australia and even gotten a roommate named Darryl.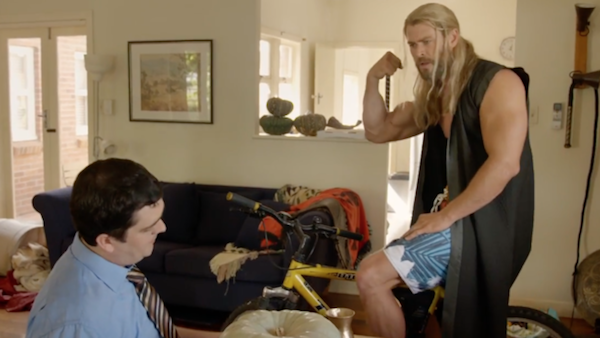 Of course, watching poor Darryl having to interact with the muscle-laden god was hilarious. It's not often a god comes to Earth to try to set up shop as a normal human.
Director Taika Waititi had hinted that Darryl would return for the actual Thor: Ragnarok movie. Considering they just released another clip of him hanging out with the unfortunate mortal, it seems even more likely.
Related: Darryl Returns! Taika Waititi Teases Comeback of Thor's Roommate
This time around, he tries paying rent with Asgaradian trinkets. He also equates his muscles to brains and hopes to hire a servant. Poor Darryl.
Watch the hilarious new clip here:
As much as we love Thor, something tells us he wouldn't be the best roommate. Hopefully there's more of this style comedy in Thor: Ragnarok. The new Marvel movie is scheduled for release on November 3, 2017.
–MovieSpoon Staff