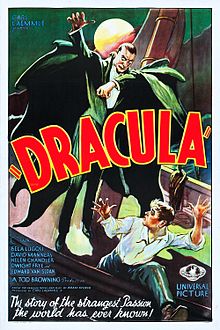 I remember watching Bela Lugosi as Dracula and Boris Karloff as Frankenstein's monster on Chiller Theater in the afternoons after school on black and white television sets in the early 1960s. This was television on the cheap, showing reruns so worn out they seemed to be deteriorating before your eyes.
Chiller Theater played early Godzilla films, variations of King Kong and even the modern comedies, like Abbot and Costello Meet Frankenstein, the 1948 classic with Glenn Strange playing Frankenstein's monster and Bela Lugosi still playing Dracula, only in the form of a character called Dr. Leighos.
How many times Lugosi played Dracula is hard to say by a study of his film titles. He played in 12 feature films in the 1910s, about 25 in the 1920s, and about 40 in the 1930s after his most famous role in the 1931 Dracula established his credentials as a ghoulish creature who lived on the blood of others and slept in a coffin during the day. He played in another 26 films in the 1940s and a small handful in the 1950s, when he was living in poverty and a morphine addict.
He was, of course, beautifully built for the part as Dracula. He had a somewhat ferret-like face. His fingers clutched at the air like a bear trap that would never let you go. He had a cold stare and demonic eyes to go along with his very worrisome Hungarian accent.
In films, he is slow. In the 1931 feature Dracula, there are a half dozen shots of his face alone, either leering or just looking hellishly blank. Director Tod Browning had little to offer in the way of special effects, but he shone two separate lights at Lugosi's eyes to make him appear haunted.
But the most frightening thing about Lugosi was his supernatural purpose. He was a very determined vampire, who was ready to strike if he could just get his victim alone for a moment or two. He wasn't just into blood to keep him alive, as the storyline goes. He seemed to think it was delicious.
I don't run to see horror films. Most of the time, I'm not sure why they make them. But I spent my coins on Sunday to watch the one-time revival of Dracula at the cinema, because the intensity is only available when the screen is larger than life. And what if you calculated the worth of this film by the profits it made in 1931 plus all the profits made from horror films since, which owe some debt to this one? And a classic is a classic, no matter the age or the story line. For myself, I sat their wishing my childhood friend Gill was with me. I would have sent him to the kitchen for some Jiffy Pop.