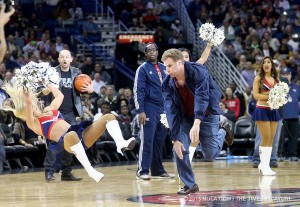 Will Ferrell is up to his old high jinx. But no, he wasn't really drunk and this wasn't an accident.
According to Huffington Post, the incident was of course staged, part of a film shoot that took place during halftime at the Smoothie King Center in New Orleans.
Ferrell's character was reportedly attempting a half-court shot with the cheerleaders lined up alongside him. Instead of aiming for the basket, he fired the ball directly into the face of one of the girls.
The scene is for the upcoming film, "Daddy's Home," which also stars Mark Wahlberg, Linda Cardellini and Hannibal Buress, according to IMDB.
"When a divorced guy's ex-wife re-marries someone way more uptight, he re-enters her life and wreaks havoc," the IMDB description reads.
Almost within minutes, photos and videos of the hit from multiple angles were circulating on social media.
Here's a YouTube video from a fan sitting in the stands.