Here's an amazing opportunity to see go behind the scenes of some of the most storied songs of all time. These documentaries seem of often come out decades after we've already associated songs with an a particular artist while the musicians and studio professionals behind these songs rarely get their due.
According to Billboard, stories behind the bass line to "The Beat Goes On" and "These Boots Are Made for Walking," the drums on "Be My Baby" and the guitar parts on Beach Boys hits and "Wichita Lineman" are all part of The Wrecking Crew, Denny Tedesco's documentary on the studio musicians who performed on thousands of hit songs recorded in Los Angeles in the 1960s and '70s. The film opens in theaters and on VOD on Friday.
Tedesco, the son of Wrecking Crew guitarist Tommy Tedesco, spent 19 years getting stories about the uncredited musicians behind records such as "Good Vibrations," "Strangers in the Night," "You've Lost That Lovin' Feelin'" and "Up, Up and Away." George Harrison used Wrecking Crew bassist Joe Osborne, drummer Hal Blaine and keyboardist Larry Knetchel, for example, when he produced Jackie Lomax's debut album in 1968.
They made records in a way that resembled an assembly line.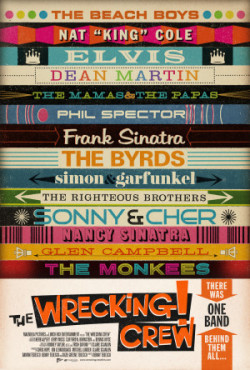 "We want to get the next job," Tedesco says in quoting his father. "How do you get it? Do this job well."
In an exclusive clip that includes Dick Clark and drummer Earl Palmer, bassist Carol Kaye explains how musicians were expected to offer musical ideas and not just execute written parts, as their predecessors and East Coast contemporaries had done.
While it celebrates a golden era in Southern California pop music, The Wrecking Crew also gets into the time when the jobs dried up, mostly due to bands playing all their instruments.
Producer Bones Howe explained to Tedesco the limited lifespan: "It's like the minor leagues, which you're in on your way up and when you're on your way down. Once you get to the majors, everybody is trying to make that ramp last as long as you can."